Once there, you can never forget. Our trip to Morocco, staying with the Ambassador and his wife in Rabat at the time, then traveling around the country by car remains so very fresh in my mind. Leaving Rabat, we drove north to Tangier, stopping at little restaurants recommended by the Ambassador. Then spent one night there before driving down through the middle of the country to Fez. Fez is completely medieval in the Medina — almost as it was nine centuries ago. Fascinating and very beautiful.
A couple of nights there and then we drove to Marrakesh — which we loved. Another beautiful old Medina, fabulous shopping, riads (guest houses) some beautiful hotels and oozing with charm. The huge main square, Jemaa el Fna, comes alive in the late afternoon with everything from snake charmers to musicians to steaming braziers cooking meats, tagines, and couscous. Oranges on huge carts with the sweetest juice that you cannot resist.) People dressed colorfully — especially the women — in long cloaks and headscarves to match.
For shopping, head to the Medina inside the walls of the old city — look for lanterns made of tin, embroidered tunics, baskets, shoes with pointed toes, and much, much more. The making of these items is almost more interesting than the final product.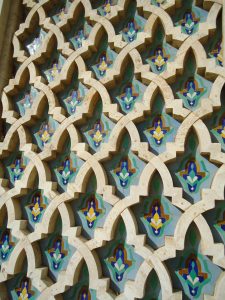 We took one side trip to the seacoast town of Essouira, a site of a gigantic world music festival each year. Along the way stopped at a women's cooperative making Argan oil – now very popular in the States for skin and hair. But when you see these women, on the floor, grinding away at the Argan nuts to create the oil, you have an idea of what it takes to make it happen. All of these women are either widowed or abandoned, and this job is of critical importance to them. We also had lunch at a beautiful old Kasbah along the way, Kasbah Tamadot – owned by a sister of the Richard Branson family, it is an exquisite hotel. You can even choose a Berber tent for your hotel room.
We brought home a beautiful rug, some tea glasses (for the ubiquitous mint tea that is served everywhere), some musical instruments and a few other odds and ends. But mostly we brought home memories of the colors, the sounds, the smells of Morocco – which are unmatched. I would head back in a second.