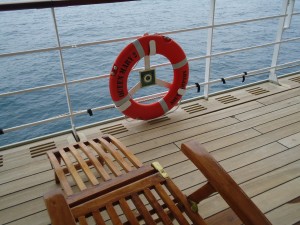 If we needed a reminder, this is it. 89-year old Dodge Melkonian and his wife Jill, 65, of Clearwater, FL, were cruising along the coast of southern Turkey with Azamara Cruises when Dodge fell at night in his cabin and broke his hip.  Considering their age and the adventurous nature of the cruise, the couple had wisely purchased travel insurance in advance, BUT they purchased the insurance offered by the cruise line.
I have said it before and I am saying it again: NEVER, NEVER, NEVER BUY YOUR TRAVEL INSURANCE FROM YOUR CRUISE LINE, YOUR TOUR PROVIDER OR EVEN YOUR AIRLINE. Yes, the insurance is cheaper through these providers, but it lacks the key coverage's you need! That's why it is cheaper.
So what happened to the Melkonians? The cruise line (which, in this case, was Royal Caribbean, owner of Azamara) did exactly what the extent of their insurance coverage required: they transported the couple to the nearest on-land hospital which was a small town on the southern Turkish coast. According to Jill, the hospital was small, dirty and totally inadequate. No one spoke English. No one seemed able to discover what was ailing Dodge, and no pain medication was provided. Additionally there were restrictions for Jill to visit her husband as, even though she is a wife, she is also a woman.
Desperate, Jill called her travel agents in the U.S. who were able to contact one of their own tour guides somewhere nearby in Turkey. This man arrived, spoke English, and arranged for Dodge to be transferred to the American hospital in Istanbul. But – more problems – they took him there in some kind of ambulance – which was a 7-hour drive away. He finally got to Istanbul, having been in pain for the whole drive, and got the medical care he needed.
So what was wrong here? The Melkonians' travel insurance, purchased from their cruise line, must not have included medical evacuation/repatriation or travel/accident sickness expenses. Even in Istanbul, their expenses were piling up at $10,000 per day. And they still had to get home to Florida. If they would have had medical evacuation insurance coverage, Dodge would have been airlifted right from the ship to Istanbul, and none of this suffering would have taken place.
Fortunately, Dodge, even though he is 89, is a feisty guy in robust good health. He and Jill are world-travellers and have been on 30 cruises. Interestingly, this cruise was free because their last cruise with Azamara resulted in a fire on the ship – all passengers received a free cruise, and this was it. So continued bad luck was with them.
Now, after world-wide publicity and outrage, Royal Caribbean, while first making inane statements about how what they did was appropriate, finally recognized that their actions in this emergency were totally inadequate, coverage or not, and stepped up to the plate to pay all expenses including transportation home. Who knows who else has suffered with this minimal coverage?
Here's a contrast: My husband Roland and I were on a short trip to Bangkok and Singapore when my husband noticed his vision was diminishing in one eye.  As it became more serious, we called our eye doctor in Minneapolis from Singapore. He gave us the name of an eye practice he was familiar with in Singapore and said it sounded like Roland's retina was detaching. He would need immediate surgery. We called the practice in the middle of the night and a doctor called us back immediately. He asked us to be in his office (which was connected to the hospital) at 8AM, and also said "do not eat or drink anything from now on." In the morning, Dr. Yeoh confirmed the diagnosis and said Roland's retina was 95% detached. As they whisked him away into the hospital, the nurse told me the operation and hospital would cost $10,000 Singapore dollars. "How do you wish to pay for this?" she asked.
I immediately called the emergency number of my independent travel insurance (Travel Guard.) Within minutes, a 'letter of assignment' was faxed to both the medical practice and the hospital, taking responsibility for all charges. My husband had successful surgery, spending another few days in the hospital. We extended our hotel stay and changed our return flights. I kept all receipts including meals, taxi fares to/from the hospital for me, hotel nights, air fare change fees, even laundry. We walked out of the hospital four days later having paid nothing; and Travel Guard paid me back for every expense receipt I submitted.
Recently we were on a cruise ourselves, in the Mediterranean near Malta, when an ill passenger was airlifted at night, by helicopter from the deck of the ship to the hospital in Malta. It was tricky to line up both the slightly moving ship and the hovering helicopter, but they did it. It took our ship another 24 hours to get to Malta, by which time the passenger was recovering from open heart surgery.
So, please take these suggestions to heart. Three good independent travel insurance resources are Travel Guard, www.travelguard.com; Travelex, www.travelex.com, and Allianz Global Assistance (formerly Access America), www.allianztravelinsurance.com.  American Express also offers independent travel insurance.
On our most recent trip, our basic Travelex policy included up to $500,000 for medical evacuation/repatriation; $50,000 for accident/sickness medical expenses and then the usual other coverage's, trip cancellation at 100%, trip delay, baggage loss, etc.
This is what you need, especially on trips out of the country. Do it; you will never be sorry – accidents or illness can happen to anyone, anywhere.