French and the French!
As I drift off to sleep each night during my 14-night stay here at Coeur de France, www.coeurdefrance.com, the immersion language school I have been attending, I gaze up at my ceiling where a beautiful, hand-painted angel floats above me. My appartement at the top of this 400-year old chateau where the school is located is named Gabriel. And indeed, it is Gabriel who is painted on my ceiling, along with two adorable cherubs. Additionally, a real horn (Gabriel's horn?) is hanging on the wall above my headboard and the wallpaper that goes around the room is of baby cherubs.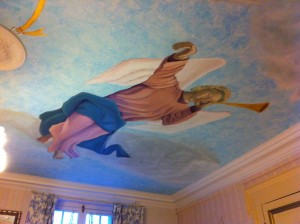 Altogether a lovely place to stay!
Living in an old chateau has its problems though. The steps up to my room from what used to be the main entrance of the chateau are broad and wide. But the spiral stairway down to the schoolrooms is a true castle stairway — twisty and windy. Luckily, it has a good handrail which makes it all possible for me. And the building is cold — not in our individual apartments or classrooms where there are giant radiators, but in the hallways, entrances and stairways. It is almost December and the weather is chilly. One can easily imagine how it was to live in these chateaus and castles when there were only fireplaces to keep one warm.
Sancerre itself is charming and interesting, with a wealth of little shops and wonderful cafes that I can walk to, and do walk to, almost every day. Each afternoon, I buy my one croissant and a half baguette for the next day's breakfast and lunch. I have told the baker that he must think about opening a Boulangerie in Minneapolis — he said he is considering it! And as I have said before, this is a wine town — with the divine Sancerre wine everywhere. My book tells me there are 300 wineries operating around here, making terrific wine from this clay, chalk and flint soil. The goat cheese from this area is named Crottin de Chavignol. Also marvelous. I was introduced to about 200 goats so I have a personal interest.
And then, there's learning the French language. As I have said in an earlier post, it is difficult. But interestingly, I am gaining a better understanding of the French people by learning the language. French is very precise (like the French people), very exact and expressive, as long as you use the right tense and the correct pronunciation. If you don't, the word will mean something else, or it won't mean anything. Even though I have had many visits to France, by truly learning the language, I have gained new insights into the French culture. Now I know why my taxi driver corrected my pronunciation on a previous visit — the street I was asking for didn't exist, because I didn't pronounce it correctly. It isn't arbitrary; if you want to speak and be understood, you have to do it their way. And the villagers here are very patient and helpful.
The school has been a revelation — I am now speaking a bit — and sort of correctly. Voila! Now if I could only understand more I would be on my way. Big improvement though, with these great teachers and a clear and simple learning system.
So, interesting no? I love it here. It has been a grand 2 weeks — now for a few more days in exquisite Paris and I will head home.
Planning to come back definitely.